The Noida Greenfield Airport will connect Greater Delhi and the western part of the Indian state of Uttar Pradesh with other cities in India
and around the world. It is scheduled to open in 2024. GATE spoke with CEO Christoph Schnellmann about the new mega hub.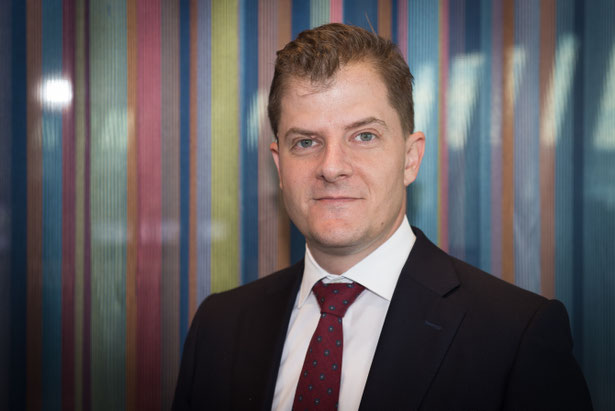 What is special about the Indian aviation industry?
India's aviation sector is growing tremendously. A rising proportion of middle-income households, healthy competition amongst airlines, infrastructure buildup at leading airports, and a supportive policy framework have given a positive push to the aviation sector.
In fact, as per a recent report by India Brand Equity Foundation (IBEF), India's aviation sector has become the third-largest domestic aviation market in the world in terms of handling domestic traffic. Furthermore, the rising demand in the sector has pushed the number of airplanes operating in the sector. By 2027, the number of airplanes is expected to reach 1,100 planes from the current 677 planes.
Post-pandemic, as the world economy is slowly re-opening, the sector is witnessing recovery. This includes the re-opening of international and domestic travel, healthy competition with new airlines in the market, and a reduction in state tax on Jet fuel (ATF) prices this year certainly helped. According to DGCA report, airlines in India carried 1.01 crore passengers in August, over 4 percent m-o-m growth in domestic air traffic.
Additionally, the Indian Civil Aviation MRO market, at present, stands at around $900 mn and is anticipated to grow to $4.33 bn by 2025. India's aviation industry is expected to witness Rs. 35,000 crores (US$ 4.99 billion) investment in the next four years. The Indian Government is planning to invest US$ 1.83 billion in the development of airport infrastructure along with aviation navigation services by 2026.
Although the sector has gone through a turbulent phase, we are confident of a strong recovery story that India is scripting in the sector and overall.
What understanding do especially European suppliers need when they want to be active in the Indian airport market?
One of the important aspects is to know your client (private or public) and understand the local procurement processes and regulations. India is a rapidly growing market; therefore, it should be looked at as a long-term investment. India is a very price sensitive market.
What can we expect from the subcontinent in terms of new developments and achievements?
We are anticipating interesting times when it comes to the new developments in the subcontinent with as many as 25 airport concessions being announced within the next 5 years. This will represent a mix of mainly brownfield and a few greenfield airports. We are also looking forward to some exciting times in terms of competition through new airlines entering the market such as Akasa Air, and former airlines like Jet Airways reentering the market. Roll out of initiatives like DigiYatra will be another breakthrough which will also increase the digital / seamless travel experience for passengers. All this is expected to lead to better infrastructure and better services which will allow the market to stay very competitive. Thus, the pressure on continuous increase in capacity and service level will remain.
What can passengers expect when Noida Airport opens in 2024?
We are developing NIA as India's leading airport in terms of customer-service, operational efficiency, digital services, and commitment to minimal environmental impact. We are focused on developing a digital airport that supports contactless travel, ease of wayfinding, and optimum dwell time for passengers. The digital airport will also provide a 'Plug & Play' environment for airlines with the objective to maximize passenger experience, minimize start-up costs for the airline, and provide overall cost efficiency and operational efficiency. Along with this, the design of the terminal will include architectural elements and materials from the rich cultural heritage of Uttar Pradesh, India. The choice of materials and finishes, such as the very large forecourt in front of the airport, will reflect this heritage.
Sustainability was one of the most important considerations for airport design from the beginning. In fact, sustainability was one of the key criteria to select the airport planning and design teams. At Noida International Airport, we are committed to developing a world-class airport, with a focus on sustainable development. NIA will be a leading greenfield airport with plans to implement technologies and processes like zero-emission fuels & electricity, waste & waste-water management, and environmental management system to realize this goal.
What do we have to know about the potential of Noida? Why does the region need that kind of airport?  
In the past few years, the Indian economy has grown enormously, and commercial real estate is one of the key sectors that have seen positive growth in the country. Noida as a city has so much potential with some wonderful investments and growth opportunities for investors looking to capitalize on the rising Indian economy. A few aspects are growing infrastructure, and easy availability of manpower as it is the most sought-after destination for investors looking to invest in the growth-oriented real estate sector. To cater to the growing business demand in the region of NCR, an airport for the convenience of travelers is essential.
The airport holds strategic importance for the whole NCR/UP region. Once established, it will also stimulate residential and industrial activities in the catchment area which will further bolster the overall economic growth within the Noida region.
What particular achievements are worth highlighting in the area of sustainability?
 Sustainability has become the need of the hour, and India's aviation sector is embracing it with open arms. The civil aviation ministry in 2019 proposed - The National Green Aviation Policy - which emphasized the Government's approach and set out a strategic framework to address the major environmental challenges of the aviation sector. 
Furthermore, the World Economic Forum started an initiative, Clean Skies for Tomorrow (CST) to bring together the Indian community of private and public institutions with a shared vision of increasing the production and usage of sustainable aviation fuel (SAF).
Zurich Airport has set the vision for Noida International Airport to become India's first "Net-Zero-Emission" Airport Operator. In the terminal, passive measures such as use of natural lighting, natural ventilation, and glare protection will help improve passenger experience and reduce CO2 footprint and energy costs. Furthermore, investments are being considered in Photovoltaic (PV) for solar production which will reduce CO2 footprint and lower energy costs in the long run. NIA will be a role model for sustainable infrastructure and operations in the country.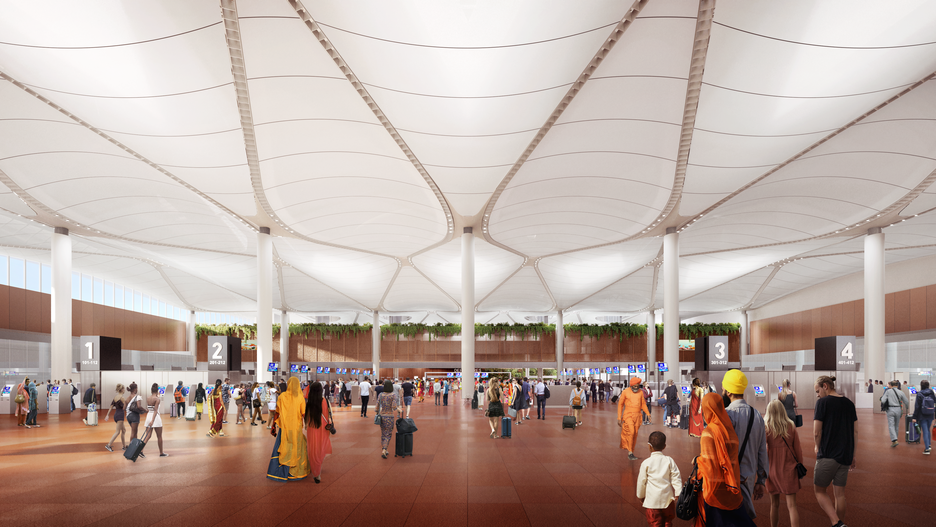 And what about digitalization and automatization?
Noida International Airport will set a new benchmark as a digital airport, with the implementation of progressive technology to produce a seamless and contactless flow through the airport. This will be supported by integrated systems, services, and therefore the use of technologies like indoor navigation, traveller flow management, and information analytics. The digital setting at NIA will embrace a paperless and hassle-free biometric journey across all checkpoints and processors in line with the Indian Ministry of Civil Aviation's DigiYatra Policy and IATA's ONE ID program. NIA has selected ICAD Holding Ltd. as the Master System Integrator (MSI).
NIA will provide a modern and seamless passenger experience as well as a broad range of commercial offerings for families with children, elderly travellers as well as the travelling business community.
What were the biggest challenges in planning?  
The biggest challenge that we came across was to begin and plan the work during COVID. We went through an international design competition to select our Master Architect (consortium of Norwegian, British and Indian architects Nordic, Grimshaw, Haptic and Stup) and the whole process had to be done virtually. Only during the last phase of design development were we able to conduct physical meetings and finally meet the teams in person. Also, the Masterplan was remotely conceptualized and developed with teams working out of India, Switzerland and US. Fortunately, despite challenges, we were able to submit the masterplan on time to the local authorities and get their approval on the same. 
We all learned a lot from our experience during that time, hence it has now become more viable for us to operate and keep moving ahead irrespective of the challenges that come our way.
What might be the biggest difference to modern European airports?
It will be a unique design, reflecting Swiss efficiency and Indian hospitality. The travel experience will be as seamless as possible with a flavor of the Indian culture and hospitality. NIA will be comparable when it comes to aircraft turn-around times and minimum connecting times for passengers.
Please describe the new Noida Airport with just three words!
Efficient, user-friendly, and green
What plans do you have for the future?
 We are developing the airport as a destination with attractive retail, food and beverage, and entertainment opportunities for weekend getaways and for travelers to Agra and other important tourist destinations in the area. Therefore, substantial activities will be seen to provide these facilities in the future.
NIA has been planned and designed keeping in mind the future expansion as well. Upon completion of the airport in 2024, activities such as logistics, warehousing, maintenance, repair and overhaul (MRO)will be developed around it. As this is a greenfield airport, planning, construction, and implementation of the same will take place gradually.