The Airport Technology Network presents its services at the world's leading trade fair with twelve members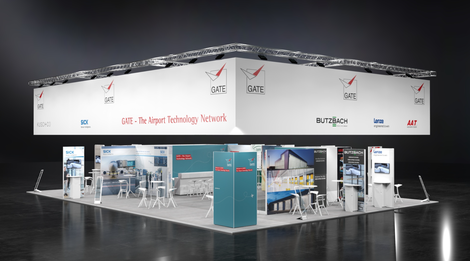 GATE, The Airport Technology Network, is represented at the leading global trade show for the airport industry, inter airport Europe, with a joint booth. From October 10-13, 2023, the airport industry association will showcase 12 members and a stage program that captures the latest industry trends.
Since the early days of inter airport Europe, exhibition organizer RX Global, formerly Mack Brooks, has already been working with GATE, The Airport Technology Network. As strategic partners, they promote exchanges between airport operators and their equipment suppliers. In 2023, the GATE joint booth will once again serve as an interactive networking and cooperation platform where member companies will present their latest solutions and engage in dialogue with trade show visitors. 
This year, the companies AAT Automation, Atlasavia, Butzbach, Cognitec, Faun, Habasit, Kusch + Co, Lenze SE, PSI Logistics, Seuster, Sick and Smets Technology will provide information about technologies that optimize processes at airports or increase passenger satisfaction.
For the first time, industry specialists from the GATE network will also share their knowledge on the GATE Innovation Stage. The program of presentations will include talks on automation, storage technology and airport cloud applications.
The preliminary program:
October 10th - 11 am: 
Tobias Haardt, Flexco, Four Logistical Baggage Handling System
October 10th - 11:45 am:

Dr. Christoph Ebert, E.ON Drive, E-Mobility for airports: How E.ON Drive 12:30 will accelerate your airport`s trans- 
portation and sustainability strategy 
October 10th - 2 pm: 
Dominick de Ron, VecCtor, "Increased Efficiency & Quality and More Sustainability Through Holistic Digitization at Airports"
October 11th – 11 am: 
Stephan Poser, Siemens Logistics, NextGen AODB – Cloud based open data hubbing for collaborative situation awareness, analytics and application development
October 11th – 11:45 am: 
Angus Baigent, Hamburg Aviation, & Julian Klaaßen, Hamburg Airport,
Leading the Way on H2 Adoption in Aviation 
October 11th – 12:30 am:
Antje Röttcher, Stöbich Brandschutz, Expert battery solutions for handling lithium ion batteries
October 11th – 2 pm: 
André Beck, PSI Logistics, & Michael Mowiniski, Digital Twin Airport, baggage arrival process
October 11th – 2:30 pm: 
Daniel Kaiser, AAT Automation, Jan Nieswandt, Sick
Automatic baggage loading - Intelligent robotic solutions create reliability and flexibility

October 12th – 11 am:
Marc Feger, Schneider Electric SE. Ways into airport's decarbonization – how to accelerate our reduction of Scope 1/2/3 emissions
October 12th – 2:45 pm:

Marlene Gieczinski, PSI Logistics, & Roman Kaiser, AAT Automation, Full Automation of Baggage Handling
Another premiere at inter airport Europe: The third issue of the association's magazine "GATE Inspire" will be published just in time for the start of the trade show. The editorial team entered into dialog with specialists in their field and spoke with leading drive manufacturers about energy efficiency and exchanged ideas with E.ON Drive about the charging infrastructure of the future.